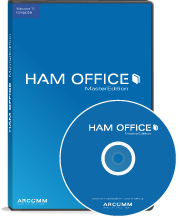 The all-rounder for your logbook. Also contains all available additional modules.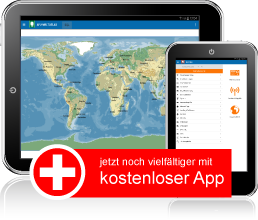 Program features
HAM OFFICE - main program
QSO & QSL
Search & Logcheck
Evaluation & Statistics
Cards
DX cluster
satellites
Interfaces to devices and web
Up-to-dateness guarantee
all functions explained in detail
"HAM OFFICE App" - mobile module
Express QSO
Offline Atlas
mobile lexicon
Data exchange
Media library
Duration of use like main program
all information about the app
+
+
"HAM ATLAS" - map module
Zoomable world map
Additional views & representations (globe, azimuth etc.)
Graticule and locator grid
DXCC, country & prefix search
IOTA & lighthouse search
Locator search
Callsign search
Extensive lists of places and areas
Log-Evaluation on maps
QSL card management
Detailed maps & photos
Position flags
all functions explained in detail
"HAM LABEL" - QSL print module
Labels & Cards
Graphic editor
Symbol library
Data import
Print data selection
QSO printout
Own databases
Templates
Intelligent data sets
Email QSL
all functions explained in detail
+
+
"HAM ABC" - Lexicon module
Terms and information about amateur radio
In the MasterEdition you receive the main program HAM OFFICE, as well as its additional modules HAM ATLAS PROFESSIONAL, HAM LABEL PROFESSIONAL, HAM DIPLOM and HAM ABC as well as the HAM OFFICE APP as full versions in the advantage package (only for new customers) either by download (200MB) or on CD.
The subscription price includes a usage period of 365 days (annual license) with an up-to-dateness guarantee, i.e. you receive all new program versions and improvements during the term free of charge.
After the period of use has expired, the period of use is automatically extended by a further 365 days (annual license extension) at a price of EUR 36.10 per year. The usage fee is invoiced at the beginning of a new usage period.
The subscription can be terminated in writing by either party at any time, but no later than 1 month before the end of the current period of use, without giving reasons. After canceling the subscription, HAM OFFICE continues to run in a severely restricted mode. No new data can be added to the databases, the import function, contest function and interface to additional modules are deactivated. However, existing data can still be viewed and evaluated. The full range of functions can be reactivated at any time without loss of data when purchasing a new annual license.
Instructions: Complete the order. When ordering, you can decide whether you want to purchase the program on CD or by downloading it. If you have decided on the download option, you will receive the download link that you need to install the software and your Individual license key for activating the software sent by email.
* Die Angaben für die Einsparungen beziehen auf den Erwerb der Einzelkomponenten.
During the ordering process, you can determine on the shopping cart pages whether you want to receive the software by download or by post.